Article Video Robot Review – Boost Traffic By Converting Articles To Video
Article Video Robot Review – Boost Traffic By Converting Articles To Video

In this Article Video Robot review I will first explain the purpose of an article-to-video service. That will place my Article Video Robot review in its proper context for you. You will understand how an article-to-video conversion service is an important asset to have. My Article Video Robot review is intended to help you decide whether AVR will help you promote your business.
Content Marketing
One of the most popular ways to advertise online is through content marketing.
It is cheap and easy to post content on your blog or on article directories and social media sites. Such content can deliver traffic months and even years after you published it.
However, content marketing also has its challenges.
The biggest problem is duplicate content. Especially if you rely on Search Engine Optimization (SEO) to drive traffic to your blog.
Article directories don't allow duplicate content either.
Another problem is that it quickly becomes difficult to think of new topics to write about every day.
It is almost as difficult to rewrite an article to create different unique versions if you want to post on different sites.
So what's the solution?
Simply to squeeze extra value from your articles by turning them into videos.
There is no duplicate content problem with video.
You can save a lot of time by re-purposing your existing content instead of writing new content.
Turning your old articles into new videos is one of the most effective ways to "re-purpose your content."
You can reach new audiences by posting videos on video-sharing sites such as YouTube, Vimeo, and Metacafe.
Did you know that YouTube is the second largest search engine after Google?
YouTube gets around one billion hits every month.
But…
Wait a minute…
Isn't it difficult to make and upload videos?
No! Not any more! Read the rest of my Article Video Robot review to find out how you can easily do this…
Introducing Article Video Robot!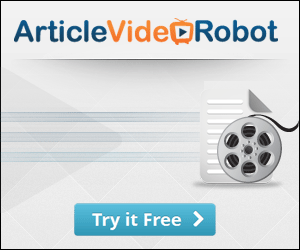 With Article Video Robot you can turn any article into video in less than one minute.
Then automatically upload your video to 50+ sites such as YouTube, Facebook, Dailymotion, and Metacafe.
That is exactly what I have been doing since I started subscribing to Article Video Robot.
I have been taking my old content and cutting it down to size to create short videos on Article Video Robot.
Then I click a button on AVR and automatically post the videos on YouTube, and share them on various social sites, as well as on this blog.
Well, it's very simple: You don't need to spend endless hours creating these videos. Article Video Robot will do that for you with just a few clicks of your mouse. That is how I have been able to achieve a sudden increase in productivity recently!
It doesn't matter what kind of business you have, Article Video Robot has the potential to drive more traffic to you, engage your audience, increase your sales and most importantly – it will save you time and money!
For example, I have also created a couple of videos for my side business at JapaneseGames.Tripleclicks.com to promote a couple of new Japanese game products.
The truth is, the world went "video" and if you're not tapping into the trend to convey your message to your audience, no matter who they are, then you're missing out on a ton of traffic.
Are you tapping into videos to reach your audience? It is easy with ArticleVideoRobot. Click This Link to get started today with a free AVR Lite account. See how easy it is to create stunning videos out of your old articles.
David Hurley
Top5Programs.com