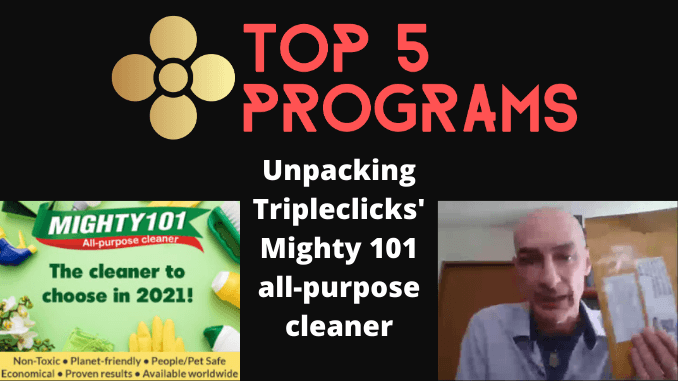 In January 2021 SFI launched a new product, Mighty 101 multi-purpose cleaning product, available on its Tripleclicks.com store.
Mighty 101 is non-toxic, 100% biodegradable, and has no artificial colors or perfumes. It can be used to eliminates grime, dirt, and germs on nearly every surface inside and outside your home, car, garage, and workplace.
Mighty101 is uniquely formulated to remove the toughest grease and grime faster than conventional toxic cleaning products. Yet it's completely safe to use anywhere in your home or business and around children, infants, and pets.
A standard pack of Mighty 101 consists of 10 (+1 free) sachets of cleaning powder, which makes it a very easy and lightweight to pack and ship, with FREE worldwide shipping. And just one order of 10 sachets contains enough all-purpose cleaner to last up to a whole year!
Another benefit is that you provide your own spray bottle and refill it with a new sachet of cleaning powder plus water, thereby cutting down on plastic waste.
Because the product is so light, Tripleclicks is able to offer it to customers all of the world with FREE worldwide shipping. I can now verify that it took just 11 days from the moment I hit the "buy" button on the Tripleclicks.com website to delivery to my door.
Mighty 101 is available as a retail product exclusively on Tripleclicks.com. These factors combine to make it an ideal product for SFI affiliates to promote and build residual income from repeat sales no matter where they are in the world.
Everyone cleans, and now you can market a product that is superior to virtually every other cleaning product out there—superior in effectiveness, safety, price, and more! Mighty101 is so inexpensive, you can even hand out free (or low-cost) sample sachets to attract new customers.
To get started as a Mighty 101 distributor and SFI affiliate, simply join my SFI team for free by clicking this link:
http://www.sfi4.com/9613031/FREE
Mighty 101 Unpacking Video
So now I've received my first package of Mighty 101, here's a video in which I unpack and review the product. Note, this is not a "product test" video! I will make one of those shortly…
If you prefer, you can view the video on LBRY at: https://lbry.tv
If you like what you see, order Mighty 101 at http://gotclicks2.com/ppMCxKMdj​

David Hurley
#InspiredFocus