How To Profit From The SFI Tripleclicks Online Store
How To Profit From The SFI Tripleclicks Online Store

The SFI Tripleclicks online store is an important and profitable part of the SFI business opportunity. In this article I will discuss five ways you can increase your income in SFI by working with the Tripleclicks online store.
Understanding The SFI Business Opportunity
Before we jump into building a successful SFI Tripleclicks online store, it's important to understand the SFI business opportunity.
First, there is the SFI team-building side, which helps you earn according to your leadership skills, MLM style. That is, the bigger and more active your team gets, the more you will earn in monthly commissions.
Then there is the part where you can refer Tripleclicks customers and earn commissions on their purchases, affiliate marketing style. No matter how large and active your team gets, if you're not actively promoting Tripleclicks, you're leaving a lot of potential cash on the table.
That's why I encourage everyone in my SFI team to incorporate Tripleclicks into their business strategy. But Tripleclicks offers more money-making opportunities than simply the affiliate marketing angle. There are five other ways you can profit from the SFI Tripleclicks online store…
5 More Ways To Profit With Tripleclicks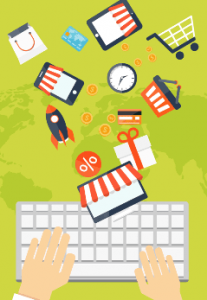 One of the things I love about Tripleclicks is that it offers unique possibilities for SFI affiliates. You're simply not limited to being an affiliate. You can even list your own products and become the merchant, or invite other businesses to list theirs'.
Heck, you can even be both affiliate and merchant if you like; and enjoy the best of both worlds! This means you're exposed to multiple profit opportunities with absolutely no restriction to the number you can access at any time.
Here are the top four strategies I've used to create a steady income for myself:
1. Promote Products and Earn Commissions
One way to do this is to choose some niche-related products and build a niche blog around them. Create good content which solves common or unforeseen consumer problems. Get known as an expert and gain enough trust to make your recommendations worth taking up.
2. Sell Business-Building Products To SFI Tripleclicks Affiliates
The two million SFI Tripleclicks affiliates are a massive market for business building products and services.
Think about how every active SFI affiliate wants to build a successful business. Most SFI affiliates are still learning the ropes. That gives you an opportunity to offer them useful business-building products or services. Business products and services include:
How to manuals

Content creation (article and video creation)

Blog design and set-up

Web hosting

Graphic design

Traffic and lead generation
Here are some of the business products that I sell or re-sell on Tripleclicks. Notice how several of them are specifically aimed at SFI affiliates.
3. Refer E-Commerce Associates (ECAs)
Do you know a small business offering products suitable for SFI affiliates and Tripleclicks members? Get them aboard the ECA program for a 10% cut on their sales!
All you need is a handful of ECAs with good quality products and you're in the money for a lifetime.
4. Sell Physical Products
I am also a Tripleclicks ECA. I sell, among other items, games such as Japanese mahjong sets, chess sets and so on. Selling physical products is a potentially lucrative business area.
Here are the physical products that I sell on Tripleclicks.
5 Set Up A Drop-Shipping Business On Tripleclicks
You don't have to be a factory owner to sell your own physical products on Tripleclicks. You can easily promote your dropshipping business through this platform.
One of the simplest ways to find genuine dropshipping wholesalers is to join Worlwide Brands. Worldwide Brands delivers a comprehensive database of real wholesalers who'll reliably dropship to your customers. Worldwide Brands is definitely worth the try if you want to quickly launch a product.
SFI Tripleclicks Online Store = Your Doorway To Success!
There are many ways to make money with SFI. One way is to build an active SFI team. Another way is to take advantage of the sales potential of Tripleclicks.
For me, making money on the SFI Tripleclicks online store has been a doorway to success. It funded my SFI team-building efforts in the days when my expenses were higher than my commission earnings. If you are not yet making money with the SFI business opportunity, think carefully about how the SFI Tripleclicks online store can help boost your income too.
David Hurley
Top5Programs.com
#InspiredFocus
P. S. If you enjoyed this blog post and would like to stay in touch with Top5Programs.com, simply opt in to my mailing list for occasional updates.

I'll send you a free copy of the 3rd edition (March 2017) of my 55 page e-book, Insider's Guide To Working At Home On The Internet.



An Insider's Guide To Working At Home On The Internet, by David Hurley. $3.50 on

Tripleclicks.com

, but YOU get it

FREE

when you opt in to my list! :)