In this edition of David's Diary I take you through the new SFI Rewardical rewards program (Promo Code: 92aee7 ). I explain what you can cash your SFI Rewardicals in for. Then I explain how you can use Rewardical tokens to get more traffic to your blog, more returning traffic, and more engaged visitors.
After that, I run my weekly Tripleclicks Gift Certificate Prize Draw. This week's prize is a $50 Tripleclicks Gift Certificate.
With 54 members of my SFI downline qualified for automatic entry, I used a six-sided red die to determine the tens. That immediately improves the likelihood of finding a winner.
By the way, with 54 people in the draw, if the red die rolls a six, it will count as "zero" so that the people in the first nine places on my SFI genealogy (1-9) have an equal chance of winning the prize alongside everybody else.
Here is the video:
Video Transcript
Hello folks, this is David Hurley of Top5Programs.com talking to you on Sunday 5th November 2017. I'm just about to run my weekly SFI Tripleclicks Gift Certificate Prize Draw for the active members of my SFI downline.
But before I do that I want to talk to you about an exciting new development that SFI has launched this month. It's a program called Rewardical. And Rewardicals are tokens you can collect. They are rewards for taking various actions.
You can collect these rewards as a consumer or as a member of SFI or a member of Tripleclicks and you can cash them in for an exciting range of rewards, actually.
Cash In Your Rewardicals For The Following Items:
I've just got on my website here a list of things you can cash these Rewardicals in for.
If you are a member of SFI you'll be able to cash them in in exchange for Versapoints…

or T-Credits, which are SFI's internal currency.

You'll be able to exchange them for Co-Sponsored Affiliates to add to your downline.

You'll be able to donate to a charity of your choice; convert the Rewardicals into a donation to a charity of your choice.

And you will also – and perhaps most exciting for many people – be able to convert your Rewardicals into Bitcoin.

And, for SFI affiliates again, you will be able to convert them into Tripleclicks Gift Certificates.
So I'm beginning to think, if I can win or earn enough Rewardicals I could convert them into the Gift Certificates that I give away to my team members every week in the Prize Draw and every month in my monthly VP challenge.
There is coming up soon another option, or there will be another option for Rewardical earners. If you earn enough Rewardicals you'll be able to cash them in for silver bullion. That sounds really very exciting too.
Tap Into The Power Of Rewards Programs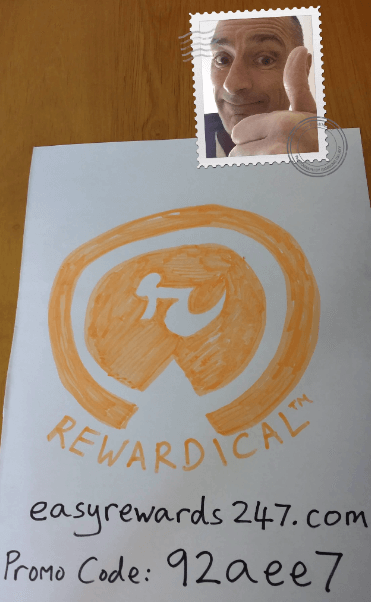 So this is not going to be just an ordinary old token program, which incidentally, people go crazy over. The tokens where… [When] there's really no, no material reward behind the tokens, people still go crazy to collect the tokens.
And they have been proven, these reward programs, to increase activity, increase the levels of engagement.
So, if you are running a business, for example if you have a blog dedicated to SFI, or a business blog – it doesn't matter what niche it is in at all – you could offer Rewardicals on your blog as incentives for people to take action.
So I am very excited about these Rewardicals.
I will be offering Rewardicals at some stage on my blog. This program is very new, so it's just in the launch stage right now.
But on a previous blog I used to run a rewards program offering tokens of, honestly speaking, really very little merit. There was an earnings side to them, but you had to collect many many tokens to get a significant reward.
Even so, people used to log in regularly – or used to return to my blog regularly and go and find the place where they could click on a link and earn some of those tokens. And that meant that the engagement level on my blog also went up 'cos people would click on other links as well.
So, it has been proved that these rewards programs do increase activity. And they're fun.
You can run around and earn lots of Rewardicals by taking action. And, in the case of the Rewardical program here, you'll be able to cash them in for some really real benefits. And if you'd like to get started, if you are not already a member of SFI – you don't have to be in SFI to earn Rewardicals – you can just pop over to EasyRewards247.com and pop in this Promo Code here – 92aee7 and you can get started with 25 Rewardicals of your very own.
So, that is the Rewardicals program. You'll be hearing much more about that in due course.
6 Sided Dice Debuts In My Tripleclicks Gift Certificate Prize Draw!
Now, let me get on with running my weekly Gift Certificate Prize Draw. Now there are 54 people who have qualified for this the first Sunday in November.
To qualify, they earned 150 or more Versapoints in October. And they have earned so far this month five or more Versapoints.
Fifty four people have taken action and so I have decided, by the way, as there are fewer than sixty people involved, to change the red die to a six-sided die. That will increase the probability of getting a winner each week until the number of active people goes up above sixty.
And so, where are we? We had no winner last week in the $25 Gift Certificate Draw, so that $25 rolls over to this week and is added to this week's $25 prize pot, making it a $50 Tripleclicks Gift Certificate Prize that is up for grabs.
And now, with 54 people and a six-sided dice signifying the tens we have a very good chance of finding a winner. The yellow die is still the good old ten-sided die that represents the units.
I pop them into my SFI cup, give it a good old shake, tip it into my bowl and see if we have a winner, and if so, who that winner could be.
[Shakes dice…]
Well, yes, amazingly we have a winner! Ha ha, not really so amazingly with just a six-sided dice. The number is 24. And here it is for you to check. Twenty-four is the winner.
Now let's see who that is on my genealogy. I don't know if I properly… I didn't actually check them off, but I think the numbers are about the same… Two, four, six, eight, ten. No, they are a little different. People come and go and so that changes the order on my genealogy each week.
[Counts and double checks…]
Well, there we are, we have a winner here in 24th place, and it is Quentin Campion. Quentin Campion, you have just won yourself a $50 Gift Certificate by taking action early in November and earning those Versapoints alongside the 150 or more Versapoints you earned last month.
Now, to claim your $50 Gift Certificate there is one more step you need to take, and that is to pop over to my blog, Top5Programs.com and post a nice positive comment there – or it can even be a critical comment. The thing is to post a comment on my blog and once I have approved it I will send you your $50 Gift Certificate, Quentin Campion. Congratulations to you.
David Hurley
Top5Programs.com
#InspiredFocus