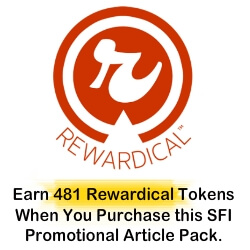 This is the THIRD EDITION of my SFI promotional PLR article pack. It was updated in March 2018 to reflect all the recent developments in SFI such as The Zing Network, Rewardical, Opti-Build and more.
The SFI Promotional Article Pack now includes SIX Professionally Written SFI Marketing Articles To Promote Your SFI Business.
Every article was written by long-term SFI Team Leader David Hurley (owner of Top5Programs.com).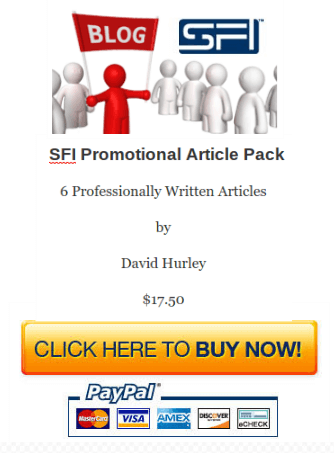 Stop Sweating & Struggling To Write About SFI!
Do you struggle to explain the benefits of the SFI business opportunity?
Don't you wish you could create good quality content for your blog?
Let's not even talk about trying to create your email campaign…
… Or about creating an ebook, video or audio recording…
NOW My Done For You SFI Marketing Articles Let You Sit Back And Relax!
I've done the sweating and researching for you. And I've written these SIX SFI Marketing Articles for you! 🙂
Note: I revised and updated all five original articles in December 2017 (2nd edition) and included new material about the Rewardical program. Then I added a NEW article, bringing the total up to SIX articles. 🙂 Then in March 2018 I replaced an article about the old ECA program with a NEW ARTICLE about OPTI-BUILD.
Here's What You Get…
So this SFI PLR Article Pack now includes SIX content-rich SFI marketing articles, over 3,500 words (an average of 580 words per article).
Every article lays out the benefits of SFI, Tripleclicks, and the NEW Rewardical digital rewards program.
1. Introducing SFI
2. How To Make Money With SFI
3. How To Make Money With Tripleclicks
4. Daily Tasks To Keep Your SFI Business On Track
5. How SFI's OPTI-BUILD Will Build Your Downline For You
6. (NEWLY ADDED IN DECEMBER 2017) How To Get Your SFI Affiliates To Take Action
No cheap PLR rubbish here!
Every article has been researched and written by David Hurley, an SFI Team Leader who's been with SFI since 2007, and a professional article writer since 2008. (Testimonials available.)
With these articles you will be able to BRAND YOURSELF as an SFI EXPERT and offer leadership to your prospective SFI recruits.
You are free to MODIFY the articles as you please to make them unique for your purposes. You can rewrite them, add your own personal touch, and publish them as your own, in your own name, on your blog or newsletter.
Feel free to turn them into an ebook or PLR report, which you can give away (great for building your autoresponder list). You can also turn the articles into an e-book and SELL it! (Get your money back on this purchase in no time!)
And you can even take the text and use it as a basis for an audio or video script, modifying it as much or as little as you like. Post your video on YouTube, or give it away or even sell it for a profit, again and again.
Your PLR Usage And Limitations
Private Label Rights packages always come with rights and limitations. Here is what you may and may not do with this SFI 5-article (and bonus) package:
[NO!] Resell the PLR package.
[YES!] Modify the content of the articles as much as you like.
[YES!] Publish the articles on your blog or website.
[YES!] Publish the articles in your own name.
[YES!] Add the articles to your autoresponder newsletter series.
[YES!] Use the articles to train your downline.
[YES!] Use the articles to recruit new affiliates to SFI/Tripleclicks.
[YES!] Use the content to create ebooks and reports.
[YES!] Use the content to create video and audio products.
[NO!] Sell those ebooks, reports, video and audio products on Tripleclicks.
[YES!] Sell or giveaway in ebook/video/audio format on other sites except Tripleclicks.
[NO!] Post the articles on article directories and other public forums. (This is a meaningless activity post Google Penguin/Panda & devalues the content for all users.)
@@@@@@@@@
FREE BONUS ARTICLE ALSO INCLUDED!
In December 2017 I updated and added a massive 795 word article about Buying Silver & Gold On Tripleclicks and added it to the pack as a FREE BONUS ARTICLE. 🙂
Then, in March 2018, I REVISED and ADDED to the BONUS ARTICLE to reflect the changes that have occurred with Tripleclicks and Rewardical.com. It s now a mega 821 words long. This article alone is worth the price of the whole package as it is designed to drive referrals and generate lucrative silver bullion sales and boost Pricebender auction activity.
@@@@@@@@@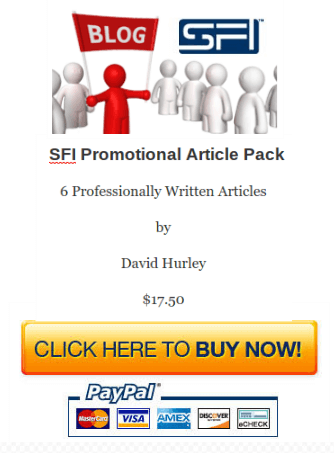 David Hurley
Top5Programs.com
#InspiredFocus
P. S. If you scrolled straight down here, this offer is for SFI affiliates who need a hand creating SFI marketing articles.
My professionally written PLR pack includes SIX value-packed articles about the SFI affiliate program.
You can edit and use the articles to promote your SFI Business any way you want for just $17.50 for the whole package.