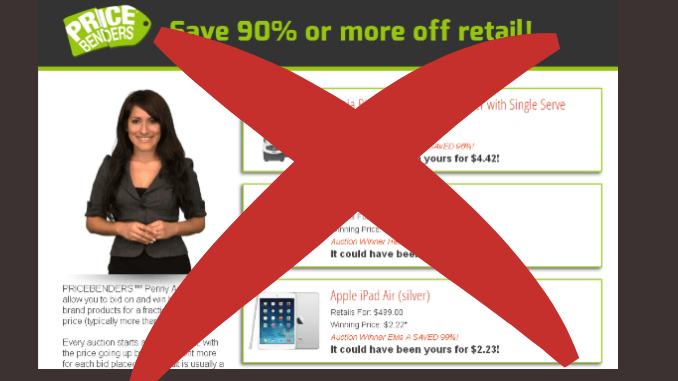 Earlier this week SFI announced that it had shut down its Pricebenders Penny Auctions and would be focusing exclusively on Astro Auctions in the online auctions market.
Pricebenders auctions were launched in 2011 as a penny auction service. Instead of pennies, however, bids were in T-Credits, the internal currency of SFI and Tripleclicks and later of the whole "Zing Network".
The auctions proved to be very popular with Tripleclicks members and SFI affiliates but in 2018 a new auction service was launched as part of the Zing Network, namely Astro Auctions which offer a more attractive and up-to-date auction product which also avoids the "penny auction" label.
Three reasons were given for the decision to shut down Pricebenders.
First, Pricebenders auctions had been trending downward for years.  Interest recently declined to the point where running Pricebenders auctions became only marginally feasible.
Second, SFI setting up new payment gateways with new banking partners, and the old penny auction model is one that financial service institutions are not comfortable with from a regulatory point of view.
Third, Astro Auctions were created to replace Pricebenders anyway. Until now they had been running alongside Pricebenders and almost certainly drawing auction bidders away from Pricebenders. Astro Auctions run on a completely different model to the old penny-auction set up, and I guess that is in part to ensure that they comply with regulatory requirements.
Why Replacing Pricebenders with Astro Auctions Is a Good Move
I think this is a good and necessary move to keep SFI in compliance with regulatory requirements. Penny auctions are not illegal in the USA, but nor is the perception of penny auctions entirely positive. Enter "penny auction scams" into google and you will see why!
Pricebenders was certainly not a penny auction scam and SFI affiliates could earn Versapoints with every bid, so they could use Pricebenders as a way to increase their rank in SFI. If I needed a few more VP to upgrade to Team Leader for example, I found bidding on a Pricebenders auction a convenient way to do it – and if I won the bid, then that was a nice bonus!
However, with the launch of Astro Auctions in July 2018 we now have a highly innovative and fairer online auction product.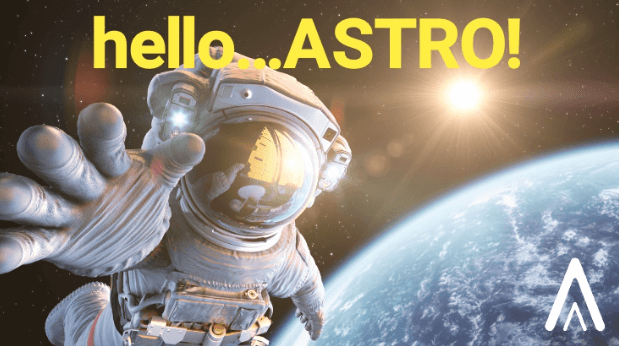 Astro Auctions is based on the "silent auction" model, but it goes much further and is a completely new kind of auction that is fair, very low risk and a lot of fun to take part in.
It puts YOU, the bidder, back in control. Because of that, it's also a product you can feel good about promoting on the Internet.
Astro Auctions several exciting features that sets it apart from other auctions. I will explain them below.
#1. Place Your Bids Before The Auction Begins
With Astro Auctions you place your bid first, and just once.  Simply bid with as many TCredits as you think will win be the highest bid and win the auction.
#2. Get Your TCredits Back!
This is the really cool part: Apart from one TCredit which you pay as a processing fee, you can get all your TCredit bids back if you don't win.  When you enter your bid, you can choose how many TCredits you want to get back if you don't win.  In other words, Astro Auctions are essentially risk-free!
Wait a minute… why would you want to pay more than one TCredit for the processing fee? See point #3:
#3. Jackpots, Contests and Prizes
For each auction you take part in, you'll be entered into two different jackpots called "Rocket Box" and "Supernova." You also get a free entry in the "Pick-The-Bid" contest in which you predict what the winning bid will be.  If your guess is the closest you'll win 500 Rewardicals (which can be redeemed for cash, bitcoin, silver bars and more.)  
Now, about those extra TCredit you "donate" to Astro Auctions (the TCredits you choose not to get back if you don't win the auction)… For each TCredit you donate you'll automatically earn at least 10 Rewardicals and win at least two additional "Constellation Prizes!"
Constellation Prizes are awarded randomly during the IN FLIGHT stage of the auction to ALL bidders. Constellation Prizes include Rewardicals, bonus entries in the Daily Crown, VersaPoints, "lifelines" for Eager Zebra games clues for the HIDDEN game and more. They add an element of excitement to the auction as it is in. For example, here's a screenshot of the moment when my 1 TCredit bid won me 1000 Rewardicals (in addition to some other Constellation prizes at other stages of the auction):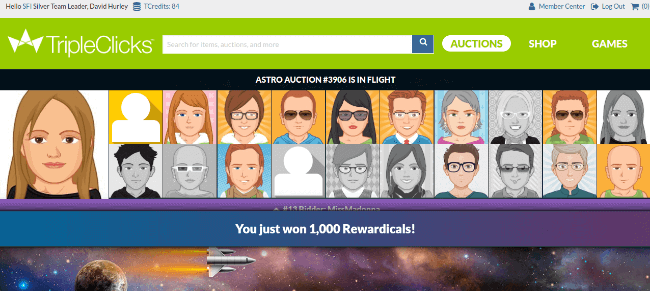 4. Nothing to Pay When You Win an Astro Auction!
When you win an Astro Auction, there's nothing to pay because the bid you placed before the auction covers the cost of the product as well as shipping and handling, if it is a physical product.  Digital items such as TCredits and CSAs are delivered to your account instantly.
No Snipers!
5. There are no snipers in Astro Auctions.  Unlike Pricebenders penny auctions, you don't have to worry about being "sniped," or losing all your TCredits in a fight with a big hitter who suddenly joins the auction. Everyone simply places their bid before the auction begins.  And no one can increase their bid once the auction starts.  If you don't win the auction, you can get all your TCredits back minus the one(s) you pay for the processing fee.
6. Set It and Forget It Until It's Over!
To win a penny auction you often have to be actively involved with it for several hours to stay in the running and have any chance of winning.  With Astro, you simply go to the auctions index, place bids for the auctions you wish to participate in, and then return later to view the revealing of the winners.  Note: We'll shoot you an email to let you know when it's time.  Just click the link included in the email, then sit back and enjoy the flight!
7. A Mobile Friendly Auction Platform
Both the auction site itself and the promotional gateway page have been designed to by fully mobile friendly. There are over two billion smartphone users worldwide who you can appeal to right on their mobile devices when you promote Astro Auctions. That's a massive boost in earning potential for SFI affiliates! 
8. More Products – Including Third Party Items – Up For Auction
Astro Auctions has been designed to make it easy for SFI to offer a wider range of products than was possible with Pricebenders. SFI also plans to open Astro Auctions to third-party sellers at some point in the future.
9. Much More Gamification
While Pricebenders penny auctions had some "gamification," they were really just standard penny auctions. Astro Auctions launched with a free, built-in Pick-The-Bid game, two big Rewardicals jackpots for each auction, and a chance to win Constellation prizes and Jackpots. There are going to be a lot more Astro badges for the badge collections and other entertainments added in due course.  Astro Auctions have been designed to make it feel like your involved in a game with LOTS of fun and excitement for every bidder whether they win the auction or not!
With Astro Auctions, everybody is a winner!
Check out Astro Auctions here! – Sign up FREE and drop me a line requesting 10 FREE TCredits so you can bid free on a few Astro Auctions to get the hang of them. 🙂
David Hurley
Top5Programs.com
EliteDownlineBuilder.com
#InspiredFocus