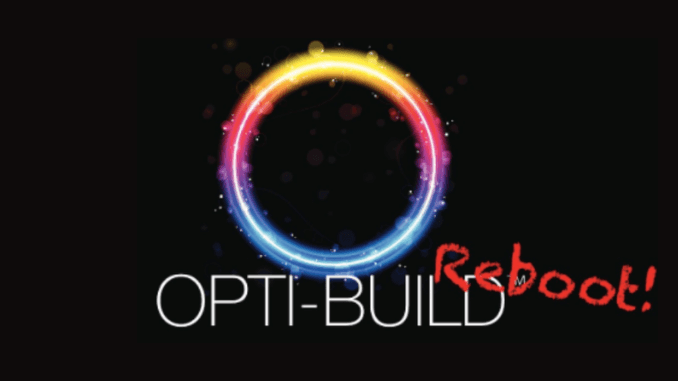 If you're building an online business team with SFI, I have some good news for you. SFI business team building just got much better thanks to this week's "Reboot" of their Opti-Build program!
This is an exciting week for SFI affiliates because SFI is releasing a series of "8 Great" announcements through the week. The reboot of Opti-Build is the fourth of the "8 Great" news releases, with four more exciting announcements to come.

Before I dive into the awesomeness of the new Opti-Build let's quickly look at the previous three announcements…
#1 On April 1st 2019 SFI is launching a new 100% digital flagship product called ECommergy, a site for and by ecommerce entrepreneurs.
#2 Massive increase in Rewardicals that can be won as Daily Crown prizes when playing GrandMaster Poker and other Eager Zebra Games.
#3 Two more "starter incentives" to encourage newly referred affiliates to shop at Tripleclicks and engage with Astro Auctions to boost your commissions and become active members of your team.
What is Opti-Build?
Opti-Build was launched two years ago in April 2017 with the aim of helping active SFI affiliates to direct their new referrals automatically into the downlines of workers in their team.
When it was launched there were quite strict requirements for participation. You had to be a Team Leader to opt-in to the program and you had to be one of the top five opted-in affiliates in your sponsor's first generation to receive any PSAs flowing down from your opted-in upline. Also, you could not control who received your referrals.
Even so, it was a good way to focus your efforts on the workers in your team. Two years ago, in 2017, I posted this video about the benefits of Opti-Build 1.0:
SFI's Assessment of the Original Opti-Build Program
Here's how Gery Carson summed up the performance of Opti-Build before this week's reboot:
While it has certainly performed wonderfully for some, only a small percentage of SFI affiliates are actually using Opti-Build. That's a shame. So we decided that Opti-Build needed to be rebuilt from scratch, to create a downline-builder tool that everyone can put to work for them.

It needed to be much simpler, easier to manage, the rules much less complicated. And it needed to be more inclusive.

Gery Carson, SFI founder and CEO
How Does the NEW Opti-Build Help SFI Business Team Building?
There are 3 key changes that greatly improve the program. Check them out in this video I made, or read on below…
#1 With the newly rebooted Opti-Build, it is now possible for ANY SFI affiliate to opt IN to Opti-Build. (You don't have to be a Team Leader or even an Executive Affiliate. Simply OPT IN and you are in!)
#2 You can add ANYBODY in your downline to your Opti-Build Manager list, and remove anybody with the click of a mouse. There's now an Opti-Build tab in the SFI Genealogy where you can manage who to add or remove. (They don't have to be "Designated Diamonds" for you to add them to your list. You can help ANYBODY in your downline no matter what their rank is in SFI.)
#3 You can choose to have 25%, 50%, 75% or 100% of your referrals flow down to your chosen people. (Before, you could only choose whether to be 50% or 100% opted in.)
Use The Rebooted Opti-Build Program For Laser-Focused SFI Business Team Building
So what's the best way to use the rebooted Opti-Build program to build a strong and active team in SFI?
Now that we have 100% control over who we reward or work with, I think it makes most sense to tightly focus Opti-Build on a handful of affiliates in key parts of our downline.
At the same time, we also want to benefit from the new 100% Commission Volume that we can earn on our own PSAs purchases in the first 30 days after they join SFI.
So that's why I am now sending 75% of my referrals to selected members of my downline and keeping 25% for myself.
Right now I am concentrating my efforts on helping one of my PSAs and one of my 4th Generation team members to build their team so that they can become Silver Team Leaders in the next few months.
By concentrating on just two of my team, I think I can help them much more than if my referrals were scattered across dozens of team members.
Once I have two new STLs in my team, I will focus my efforts on helping two other team members, and so on.

What If You Only Have A Small SFI Business Team So Far?
If you only have a small team, and no EA or Team Leader PSAs, then focus on helping one or two of your PSAs to get to improve their rank EA or Bronze Team Leader by sending your referrals to them through the rebooted Opti-Build.
On the other hand, if you have several EAs or Team Leaders among your PSAs, look for active affiliates in the lower generations to support through Opti-Build.
By helping someone in my 4th generation, for example, I am also helping his sponsor (in my 3rd generation), and his sponsor's sponsor (in my 2nd generation) and also the PSA who has those people in his or her downline.
And don't forget that you will also earn 4% of override Commission Volume (CV) on sales generated by everybody your team (including your PSAs) as well as 20% of CV on sales generated by your PSAs after their first month (when you earn 100% of CV!).
So building up the lower generations is an excellent way to grow a strong team. And using the rebooted Opti-Build to target where your referrals will be placed gives you 100% control over how to grow your SFI business team.
Good luck!

Any questions or comments? Post them below and I'll get back to you within 48 hours.
David Hurley
Top5Programs.com
EliteDownlineBuilder.com
#InspiredFocus