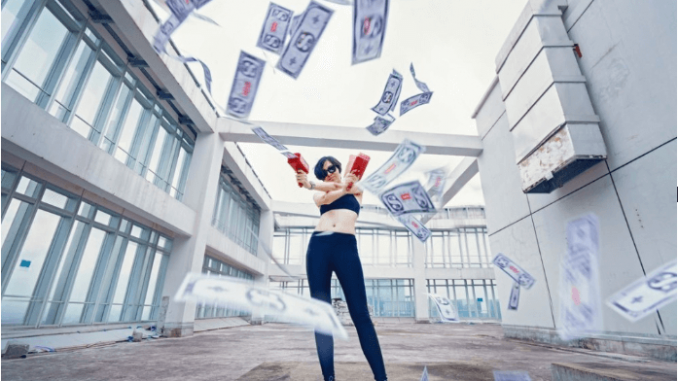 Hello Folks,
Here is the latest edition of "David's Diary" to bring you up to date with business news relating to my "Top 5 Programs" and my weekly $25 Tripleclicks Prize Draw.
Today's report includes information about:
The new SFI comp plan: Out with the Executive Pool, in with Team Overrides!

Why "no money" is no excuse for SFI affiliates: The Case of Tommie K

The Inevitable and Me – How Kevin Kelly's book has pushed me towards minimalism…

A dynamic start to June for my SFI team!

The result of this week's $25 Gift Certificate Prize Draw
Here's the video of today's news. Or, if you prefer to read, scroll down for the blog post I wrote to support the video.
The New SFI Comp Plan
In today's post I want to bring you up to date with the new SFI comp plan that was announced at the beginning of the month.
Before this new comp plan, a percentage of the CV of every sale was placed into an "Executive Pool" which was divided up between all the VP that Executive Affiliate and higher level affiliates had earned during the month. It was a kind of profit share program, but you had to earn a lot of VP to earn anything significant from the Executive Pool.
Out With The Executive Pool…
Gery Carson gave an example in the forum that if you earned 3,000 VP it would convert into just over a dollar in cash.
So you'd have to earn tens of thousands of VP to get any significant income from the Executive Pool each month. And 99.999% of SFI affiliates do not earn more than a few thousand VP every month.
In With Team Overrides!
So, the Executive Pool has gone. It's been replaced by something more exciting called TEAM OVERRIDES. To qualify, you must be an Executive Affiliate or Team Leader.
That will enable you to earn 4% of all Cash Volume sales through several generations of your downline.
When an SFI affiliate buys something that generates a CV commission, 12 qualifying members of the affiliate's upline each receive 4% of the Commission Volume.
Note, if the buyer is one of your PSAs, you will ALSO earn 20% of CV in direct commission. Yes, that is IN ADDITION TO the 4% override you will qualify for if your rank is EA or higher.
The Team Overrides are "dynamically compressed." That means they skip over anybody in the upline who is not upgraded.
Here's a chart to show how that looks. It's based on a sale that produces $40 CV. 4% of 40 = $1.60.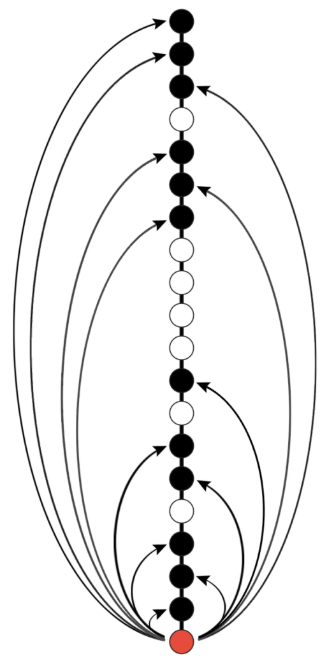 In the chart, the red circle is the buyer. The $40 CV is divided into 12 $1.60 commissions and go the 12 qualified members of the buyer's upline (the black circles). The white circles are SFI affiliates in the upline who have not upgraded.
Note, the person at the top of the tree is a Diamond Team Leader who can earn from 12 compressed generations. In this example, dynamic compression enables the DTL to earn a $1.60 commission from someone in the 19th generation.
Improved CSA Commissions
As part of the drive to improve the compensation program, CSA commissions on your current CSAs have been raised to 16% of CV.
Also, from now on, each affiliate will now have FOUR Co-Sponsors, each of whom will earn 8% CV commissions on every sale.
So, you earn 16% on your current CSAs and 8% on future CSAs, but now that each CSA gets FOUR co-sponsors, you are likely to receive a lot more CSAs for your efforts.
In addition, we will now earn 1/25 Rewardical matches on our CSAs' Rewardical earning. Check this post for more info about the Rewardical program.
There are a lot more details about the new SFI compensation plan here and here in the SFI members' area.
My takeaway is, the changes will be very good for encouraging stronger team building and will lead to higher commissions for everybody who is actively building an SFI team.
Join SFI Free and work with me in building a dynamic downline for your future prosperity with SFI.
"No Money" Is No Excuse!
Everybody can work and succeed with SFI. All you need is Internet access and the right mindset. If you really have "no money" for your business I would question your priorities.
But assuming it is true, and you really have no money for your business, you still have no excuse not to succeed with SFI! You must simply invest your time and effort in posting SFI ads on "free advertising sites."
The Case Of Tommie K…
SFI Gold Team Leader "Tommie K" good example of what can be achieved with free advertising. Tommie K is an active contributor to the SFI forum and is well-known there for being the "free advertising guy."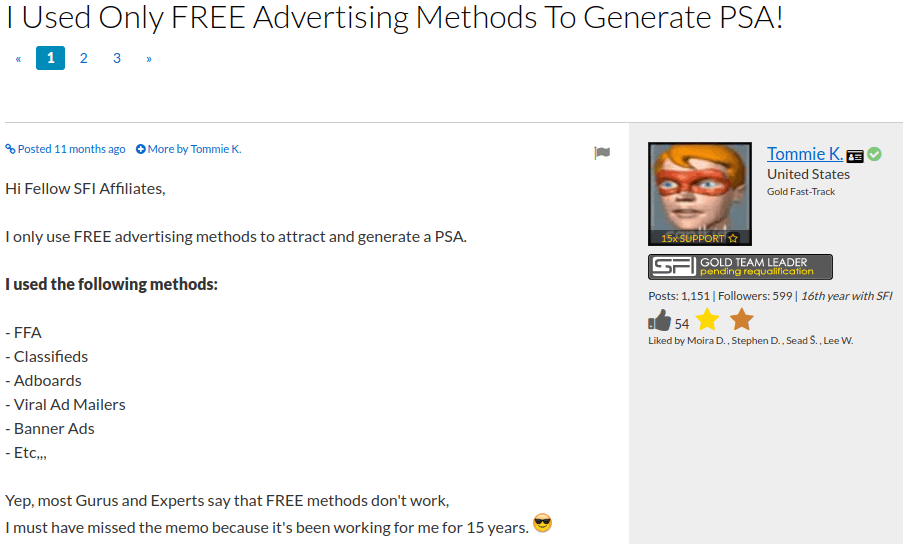 Tommie K promotes his SFI business entirely with free online ads. He advertises on traffic exchanges, safelists, classified ad sites, banner ad sites and so on. Through his efforts he has built up an active team and risen to Gold Team Leader.
Tommie K is the proof that "no money" is no excuse with SFI.
Me And The Inevitable
I posted a book review of The Inevitable, by Kevin Kelly on my blog last week. In today's video I report on the way that book has prodded me further along the "minimalist" path.
I've also started following The Minimalists YouTube channel run by Joshua Fields Millburn and Ryan Nicodemus of https://www.theminimalists.com/ fame.
And today I continued with my work of reducing the amount of clutter in my room. Over the course of the weekend I have removed two bookshelves from my room, given away several books and disposed of a lot more.
Also, my new Amazon Fire arrived in the post – another step on the path to owning less and accessing more…
A Dynamic Start To June
Forty of my SFI team members qualified for automatic entry into this week's prize draw. That's the same number as last week. Usually, at the beginning of the month the numbers drop off. So I'm pleased to see so many team members staying active enough with SFI to qualify right at the beginning of the month.
First Time Winner Of My Weekly $25 Gift Certificate Prize Draw!
The dice rolled number #31 and the winner was Shaista Talib, who's in the 4th generation of my downline and a first-time winner.
Congratulations to you, Shaista Talib! A $25 Tripleclicks Gift Certificate will be on its way to you as soon as I have seen and approved your comment on this blog.
Join My SFI Team, Build An Online Business And Get Rewarded For Your Efforts
Would you like to work with an active sponsor in the Internet's leading free-to-join affiliate business? Have fun while you grow a second or replacement income. Does that sound good? If so, join my SFI team free today – and let's build your online business together.
David Hurley
Top5Programs.com
#InspiredFocus