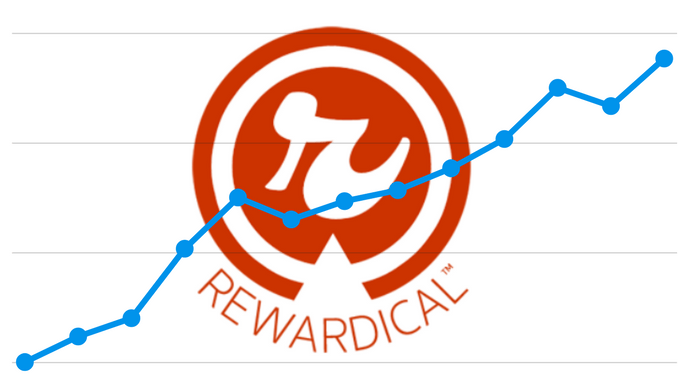 In this week's video I show you how I am working to increase web traffic and sales by offering Rewardicals on my blog. If you are also a business blogger, this is something that you can do to increase web traffic and sales on your blog too.
Here's my video – I hope you like the new screencast style. If you prefer to read, just scroll past the video to continue:
Top5Programs is now set up as a Rewardicals store on the Rewardical.com website under the name "David Hurley Business Services." Search for "hurley" in the Rewardicals search bar to find my Rewardicals info.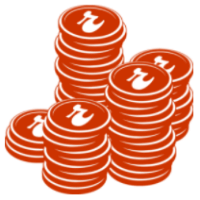 You can claim 275 rewardicals for every $10 you spend on my products and services here on Top5Programs.com.
First, set up your free Rewardical account here (use the Promo Code 92aee7 to claim 25 Rewardicals). Then check this blog post about how to claim Rewardicals from my blog.
Once you are a Rewardicals member you can apply for the Rewardicals E-Commerce Associates program. When you apply, you will need to enter the URL of your sales website into the application form.
If you don't yet have a website, can set up an online shop on an e-commerce platform such as Shopify.com.

In my case, sell my e-books and PLR article packs directly on my blog, Top5Programs.com through E-junkie.com using Paypal as the payment processor.
You can set up a free blog on SiteRubix.com and add your E-Junkie products to it very easily.
E-junkie is a very economical choice. You can host up to 10 products for just $5 a month with NO transaction fees, compared to Shopify's $29 per month plus transaction fees. If you're like me and selling or wanting to sell only digital products, E-junkie is a "no brainer." Here's their price list: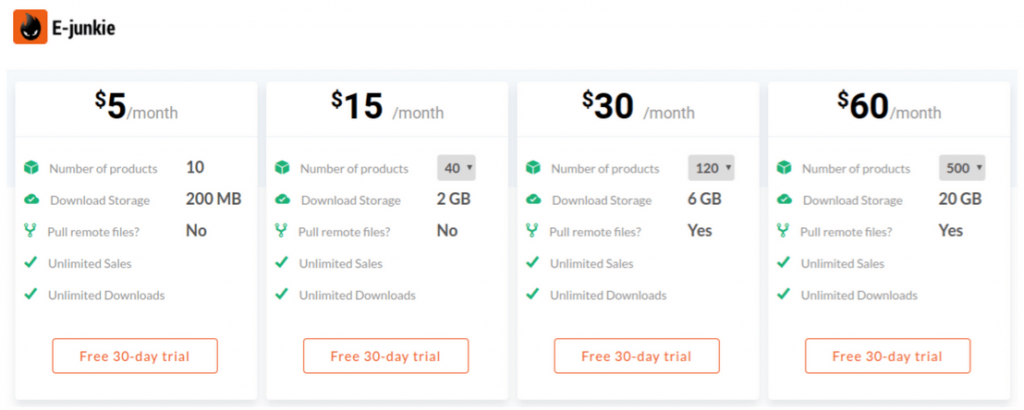 Once you have your blog set up with some products on it and have added it to Rewardical.com, you are all set to increase web traffic and sales. How will that happen?
Rewardical.com is part of the SFI group. SFI is probably the biggest free business program on the Internet today with a total membership of several million. Not all those members are active, but every day tens of thousands of SFI affiliates are looking for ways to grow their business by claiming Rewardical tokens.
That means they will be ready and willing to buy from you if you offer them what they want and get your message in front of them.
If you need a hand setting up your sales funnel, I may be able to help you. Check this page for my current set-up services.
Read more about how to increase sales in your business with Rewardicals.
This Week's $25 Tripleclicks Gift Certificate Prize Draw
[Video Transcript from 5:01]
Let's move on now to today's SFI Tripleclicks Gift Certificate Prize Draw for the active members of my team. It's a $25 Gift Certificate that's available today as we had a $50 winner last week.
Last Week's $50 Gift Certificate Winner
Lisa, one of my CSAs, won and claimed her Gift Certificate [by posting a comment on my blog] so congratulations to Lisa.
That was her third win in six months, which shows that if you are regularly qualifying for these prize draws you can win some nice cash. She's won $100 so far from me, and maybe she will win some more in the future, simply by staying active.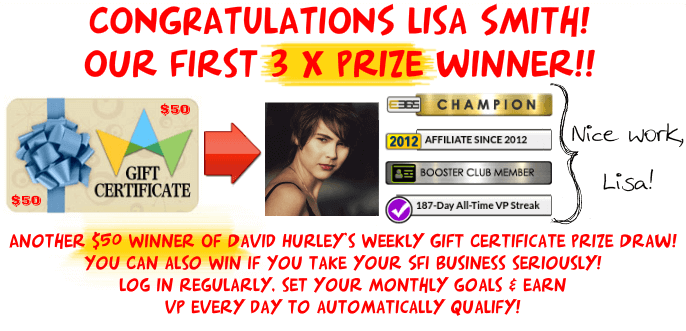 How I Set Up The SFI Genealogy To See Who Qualifies For My Prize Draw
Let me show you now how I set it up to find out who qualifies each month (and each week). We go Tools – Team Building – Genealogy.
And the first metric we put in is last month's 150 Versapoint qualification, so we find out how many people earned at least 150 Versapoints. And it's usually these days over 100. So we find that 108 people have qualified so far in the first of the four steps required to enter my prize draw automatically.
We now will find out how many people have qualified so far this month, needing at least 15 Versapoints as we are in the third week of the month. That's less than one a day. It's not very many. You would've thought that all 108 would've managed it, but in fact it's proved too difficult for many. And so the number of people qualifying after those two metrics have been entered is 49.
We need next to put in the third metric, which is: "Are you setting your goals in SFI each month?" We're on 49 now. When that clicks through we find that it's dropped down to 45. A few people have failed to set their goals.
And the final metric is, "Are you logging in regularly?" … Last login. Now for most of you it's still the 18th of February, so I'll set that [Last Login] to 15th February. … So who has been logging in? … And we find that 44 people have qualified.
And This Week's Winner Is…
So, with that said and done, let's shake the dice. Once again we have the red die signifying the tens. The six will be a "zero" if it comes up. And the ten-sided die to find the units. Put them in the cup and give it a shake…
[tips the dice into the bowl and moves the computer round so the camera can show the result!]
The number there, if you can see, is 36. … Number 36 is the winner… #36 is Cecilia Ionita.
Cecilia Ionita, you are the winner of this week's $25 Gift Certificate Prize Draw. The next step is to pop over to Top5Programs. As soon as I see and approve it I will send you your $25 Gift Certificate.
David Hurley
Top5Programs.com
#InspiredFocus