In today's $50 Tripleclicks Prize Draw video I begin by talking about the Darren Hardy compound effect.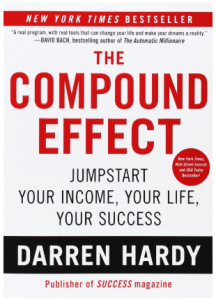 The Darren Hardy compound effect is based on the ideas that Success Magazine publisher, Darren Hardy, explained in his book, The Compound Effect which became a New York Times bestseller.
There is a close connection between the Darren Hardy compound Effect and the purpose of my weekly SFI Tripleclicks Gift Certificate Prize Draws, as I explain in this week's video before rolling the dice…
The good news is that the dice rolled a winner, so one lucky member of my active SFI downline just won a $50 Tripleclicks Gift Certificate from me this week!
Video Transcript
This is David Hurley of Top5Programs.com talking to you on Sunday 11th June 2017. I'm about to run my second SFI Tripleclicks Gift Certificate Prize Draw of the month for the active members of my SFI team. But before I do that I want to tell you about a guy I found out about by talking to a friend of mine on Friday night.
How I Learnt About The Darren Hardy Compound Effect
One of my classes was cancelled, the last class of Friday. I'm an English teacher in Hiroshima. On Friday evenings, twice a month, I run an English language mahjong class. We play Japanese mahjong but we do all the scores and name all the hands we create in English. It's a lot of fun. But unfortunately, one of the students of that class had an accident so the class was suddenly cancelled on Friday evening. 
That put me at a loose end and I remembered that a friend of mine had recently come back to Japan and was back in a bar that he owns, running the bar again. So I went to see him and we had a really good chat on Friday evening.
He mentioned to me a guy who I had not actually read or found out about before. His name is Darren Hardy.
Here is The Darren Hardy Compound Effect Video on YouTube.
The Compound Effect by Darren Hardy
Darren Hardy wrote a best selling book called The Compound Effect . His teaching is all about [how] the actions you do consistently will, over time, make a very big difference in your life in a positive or a negative direction.
At the time of doing each particular small action, it may not seem like it has any effect at all. But the cumulative effect of these actions, as you build them into regular habits that become an established part of your daily routine, will have a massive effect, a compound effect, over the course of time.
Applying The Darren Hardy Compound Effect To My SFI Business
For me as an SFI affiliate, one habit that I have built into my life is logging in every single day and earning at least ten VersaPoints. This way, I stay connected with my SFI team. I stay connected with new developments by SFI. And SFI becomes a regular part of my life and I think of it as MY business, which in fact, it is. 
This kind of attitude will reap benefits and dividends over the course of time. 
What I see most people in my downline, and I think most people in SFI, doing is, they are only semi-committed, if even semi-committed. And so they may log in once or twice a month or once or twice a week, click here or there for a VersaPoint, piddle around basically. And then they wonder why they are not making any money with SFI. And perhaps they will go away and say that SFI doesn't work. You know, the usual losers' excuse that it's a "scam".
It's Not The Software, Stupid!
Darren Hardy makes a good point about how it is not the "software", it's the "hardware" you load it onto that is perhaps screwed up. 
So, SFI is a perfectly good piece of affiliate marketing "software," but the people who use it, they're like a faulty computer. You try to run the software – when you have these bad habits – and the software doesn't work. You try to run a good program on a bad computer and the program doesn't work. 
It's the same with these business programs. If you don't have right habits in place, the right discipline, the right focus, then it doesn't matter how good or how great the affilite program is. It won't work because you are not doing the work. 
So, log in regularly, earn VP, read all about the program. Read all about SFI and apply the lessons. Take action every day or every week, whenever you can.
Now I'm busy here in Hiroshima as an English language teacher. And this term I have a very busy teaching schedule, so I don't have much time to run my business. But every day, I log in to SFI and I earn at least 10 VersaPoints. It's just a part of my daily routine.
The Purpose Behind My Weekly SFI Tripleclicks Gift Certificate Prize Draws
With that said, the whole point of my SFI Tripleclicks gift certificate prizes IS to encourage people to log in. Because, if you're an active member of my team and you log in every day and you earn ten or so VersaPoints every day you will qualify to enter my prize draws. And you could be winning $25, $50, $100 gift certificates if the dice are friendly to you. As long as you've qualified. 
All you have to do qualify to enter my prize draws is to log in to SFI consistently, earn at least 150 VersaPoints in the first month, and then that will qualify you to enter the following month's prize draws. Then there is a weekly VersaPoint earning requirement. And I've kept the bar very low. All you have to do to each week is earn an extra five VersaPoints to qualify for the prize draw.
So, 150 VersaPoints in the first month and then five VersaPoints a week to qualify for each Sunday's prize draw [in the second month]. 
And my aim with this is to encourage you to build these small habits. To log in every day and earn a few VersaPoints. You won't have to do anything else to qualify for my prize draw. You will automatically appear in my Genealogy when I set my parameters. And then, when I roll the dice, if it brings up your number in the Genealogy you will win the gift certificate.
So, with that said, let's get on with the Prize Draw. 
This Week's $50 Tripleclicks Gift Certificate Prize Draw
This week fifty-three people have qualified to enter the prize draw. So it means again, as with last week, we have roughly a fifty-fifty chance of finding a winner or of getting a rollover. Now, last week's prize rolled over to this week, which means this week it's a $50 gift certificate. 
And so, without further ado, let's see if the dice give us a winner, or roll over to next week. If it rolls over to next week it will be a $75 prize draw.
So, I take my two dice. The red die is – they are both ten-sided dice. The red die represents tens and the yellow die represents units. Throw them into my SFI cup, give it a good old shake and tip the dice into that bowl and see if we have a winner.
Here we go! 
[Shakes the cup… rolls the dice…]
We Have A Winner!
Well, the good news for somebody in my downline is that we do have a winner this week. Number 27 in the genealogy list.
So, number 27, perhaps somebody in my second generation. Let's have a look. So, pull up my SFI genealogy, which is here. There are 53 people who have qualified. And go down ten… 2, 4, 6, 8, 10. 2, 4, 6, 8, 20. 22, 24, 26, 27. Twenty-seven is a Designated Diamond. It is… Cyril George.
Cyril George, you are somebody who regularly logs in to SFI and generates VersaPoints. And you are serious about building your team. I have known you for some time as as an active member of my downline. So, thank you Cyril for being so active, and so regularly active. You have just won yourself a $50 Tripleclicks Gift Certificate which I will be very happy to send to you.
Now, all you have to do to qualify for me to send you the gift certificate, having won it here, is to post a […] thoughtful comment on my blog in response to any of the posts you see. I will be contacting you to give you instructions about that. Just post a comment on my blog, Top5Programs.com and I will send you your $50 Gift Certificate, Cyril George. Well done!
David Hurley
Top5Programs.com
#InspiredFocus
| | |
| --- | --- |
| If you enjoyed this blog post, subscribe to my weekly newsletter to get free reports on what's working now. Plus, I'll send you a FREE copy of my latest e-book, How To Create An E-Book For FREE, & Get More Online Sales. | How To Create An E-Book For FREE, & Get More Online Sales. |