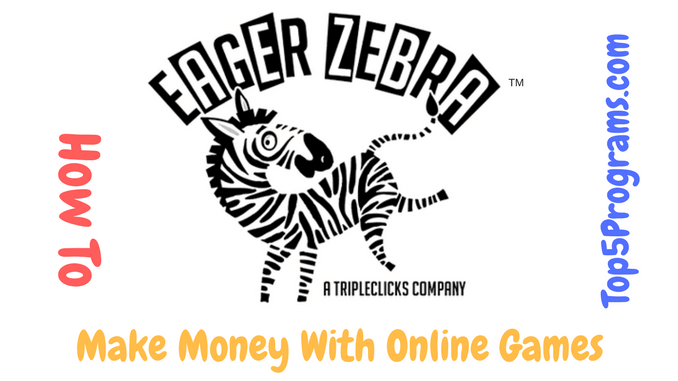 I guess you're here because you want to know how to make money with online games. The idea of making money with online games is very attractive, and there are many ways you can do it, four of which are:
First, as an online games player. You make money by winning the games you play or by winning prizes while you play.

Second, by referring others and earning commissions when they spend money on playing games.

Third, by playing games and earning Bitcoin while you play, and commissions on your referrals activities.

Fourth, you can "gamify" your online business by building elements of play or gaming into it. This is known as "business gamification."
In this post I'll explain how to make money and bitcoin with online games both as a player and affiliate marketer. I'll focus on business gamification in another blog post.
How To Make Money With Online Games As A Games Player
There are a ton of sites where you play games with the aim of making some money. Not all of them are legitimate by any means, so check them out before you join.
Swagbucks
One trusted online games site is Swagbucks.com.
You can play games and do other stuff on Swagbucks.com to earn "swagbucks." Swagbucks can be redeemed for Amazon, Walmart, iTunes and other gift cards, or for cash paid to your Paypal account.
If you're already a keen games player, switching to Swagbucks.com could be a good way to get something back for your online fun.
While you're there you can also earn cash by doing surveys, watching videos, shopping, and searching the web.
Take On Other Players And Earn Cash Prizes
Swagbucks also runs competitive games where you pay to enter and compete to win cash prizes. Of course, you also risk losing your money, so choose your game carefully.
For example, if you are good at trivia games, Swagbucks run Trivial Pursuits competitions where you can take on other players and earn cash prizes if you win.
Making Money With Online Games By Referring Other Players
While you can earn a few bucks playing games online, you can earn big bucks if you can win competitions.
If you're not a master poker player, however, there is another way to make money with online games. It's through affiliate marketing, which is potentially more lucrative than any other way of earning with online games.
Swagbucks, for example, offer 10% affiliate commissions for life. In other words, every time one of your referrals buys Swagbucks to play games, you will earn 10%. If they buy 500 Swagbucks, you'll earn 50 Swagbucks and so on.
Eager Zebra Games
Eager Zebra offers another potentially lucrative way to make money with online games.
Eager Zebra Games are part of the Zing Network which includes the free-to-join SFI affiliate marketing program. Find Out More About My SFI Team Here.
SFI is one of my Top 5 Programs in part because of the earning potential of the Eager Zebra online games they offer on their Tripleclicks portal. 
Eager Zebra games offer a different business model than Swagbucks. You can play most Eager Zebra games for free. But you can unlock more options if you buy TCredits and use them while you play.
For example, among other things you can:
Spend a TCredit to get back into a Brain Sprint game that you've been knocked out of.

Use TCredits to buy "matches" in the Grandmaster Poker game.
Buy a "pass" in the Card King game.

Keep on playing games beyond the free play limit.
SFI affiliates earn commission every time their referrals buy TCredits. Your SFI commissions can stack up very nicely when you refer a few Eager Zebra games players. I'll talk about how much you can earn in a moment.
First, there's one more thing benefit to spending TCredits on Eager Zebra games that you should know about. It's called "Rewardicals."
Earn Rewardicals While You Play Eager Zebra Games
Rewardicals are digital reward tokens that you can earn in various ways on the Zing Network. Eager Zebra players can earn Rewardicals when they spend TCredits while playing Eager Zebra games.
Other ways to earn Rewardicals are:
Bidding on Pricebender Penny Auctions.

Shopping at online stores such as Top5Programs.com that offer Rewardicals.

Shopping at offline stores that are part of the Localvantia network.
Rewardicals can be redeemed for gift cards, TCredits and **bitcoin** among other stuff.
So for Eager Zebra games players Rewardicals work as a kind of cash-back service when you buy TCredits to play games.
You Can Redeem Rewardicals For Bitcoin 🙂
If you are keen on the idea of earning bitcoin, have a close look at Rewardical.com.
Once you understand how it works, you could use it as a risk-free way to build up your Bitcoin stash.
I'll show you another risk-free way to do that at the end of this article – keep reading!
How To Make Money With Eager Zebra Games
If you are an SFI affiliate who has referred some active Eager Zebra games players, you will earn 1 Rewardical for every 10 that they earn. In other words, you get an automatic 10% "Rewardical commission" on their Rewardical earnings.
While it's always nice to earn Rewardicals, you can make more money on TCredit purchases.
TCredit sales are the "secret sauce" to making money as an SFI affiliate. And all you have to do is to invite friends to play Eager Zebra games. You're not "selling" because the games are free to play.
But any time one of your Eager Zebra referrals buys TCredits you will earn a commission. Here's how much you'll earn per regular TCredit order:
1 TCredit costs $1.99. Your commission = 61 cents.

10 TCredit pack costs $5.90. Your commission = $1.44.

20 TCredit pack costs $9.80. Your commission = $2.18.

50 TCredit pack costs $21.00. Your commission = $4.16.

100 TCredit pack costs $35.00. Your commission = $6.99

125 TCredit pack costs $43.75. Your commission = $8.74

200 TCredit pack costs $64.00. Your commission = $9.96
The commission for standing orders is a little lower as standing order customers get a discounted rate. But you get the idea. Just a handful of active Eager Zebra referrals will net you some nice recurring commissions month by month.
How To Earn Bitcoin While Playing Online Games
Here's a completely risk-free way to earn bitcoin with online games.
It's a bitcoin faucet called Bitfun.com and it's risk free because you never have to spend a dime!
Simply play games and collect satoshi. Heck, you don't even have to play games to collect satoshi!
How Does Bitfun Work? What's The Catch?
Bitfun.com earns its money by selling advertising space on its website.
Bitfun pays you satoshi for spending time on their site. It's their way of guaranteeing a good flow of traffic for their advertisers. However, you don't have to click on ads to earn satoshi.
You will earn the same amount of satoshi whether or not you play games. You don't earn satoshi for playing games. You simply earn satoshi by logging in to your Bitfun account and staying logged in.
The satoshi accumulate all the time you are logged in.
Some of the games are, well, meh. And the ads can be intrusive – that is "the catch" to hanging out on this site. They show you a ton of ads, but you can delete or ignore them.

The one game I enjoy playing on Bitfun is Tentrix.
It's a Tetris type of game with a twist. You don't get interrupted by ads once the game is underway.
Earn 50% Satoshi Commissions On Bitfun
The other – potentially much more lucrative – way to earn from BitFun and other Bitcoin faucets is by referring others and picking up 50% satoshi commissions on their satoshi earnings.
If you are at all interested in Bitcoin but worried about the risk, playing around with Bitcoin faucets is the completely safe way to start earning Bitcoin.
Any Other Ways To Make Money With Online Games?
In this article I showed you how to make money with online games through Swagbucks, Eager Zebra games and Bitfun.
Of course, there are many ways to earn money playing online games. If you know of a game you can make money playing online, let us know in the comments!
David Hurley
Top5Programs.com
#InspiredFocus
P. S. If you've scrolled down here without reading the article, here's the sauce: I explain about how to make money with online games.
I recommend three tried and tested sites where you can play and earn cash or bitcoin. They are Swagbucks.com and then Eager Zebra games on Tripleclicks.com. Bitfun.com is a games site and Bitcoin faucet where you can earn satoshi simply by logging in.