This FREE service is exclusively for Elite Downline Builder members who have fulfilled these three conditions:
Upgraded to Platinum or JV-Diamond in EliteDownlineBuilder.com
 Upgraded and maintaining an Active Aweber.com account
Upgraded to Platinum (or higher) in AdKreator.com
If you qualify, here's what you get…
Everything You Need To Run Your Own List Building Campaign To Pull Referrals Into EDB
Platinum and JV-Diamond EDB Members are welcome to use my personal EDB list building and email follow-up campaign – FREE!
All the elements of a squeeze page campaign have already been done for you.
All you need to do is join the dots and start promoting to build a list of prospective referrals and customers.
Here's what you get:
1. A rebranded copy of my free e-book, The Ultimate Online Profit Formula.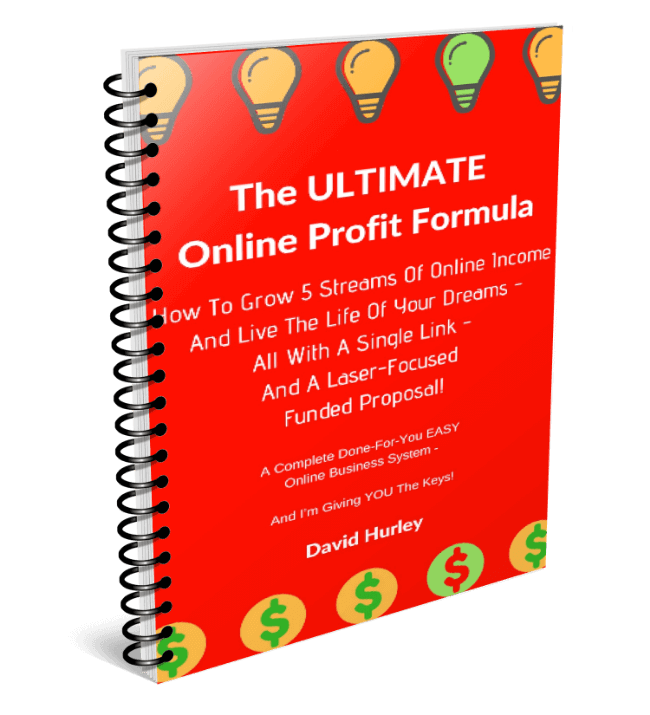 You will be able to give away the e-book to anybody who subscribes to your mailing list.
To see what's inside, opt in to my list via the form in the right column of this page and you will receive your free report, just as YOUR subscribers will once I have set up this campaign for you.
2. Squeeze page
We use AdKreator to set up your "squeeze page" (or "opt in" page), which will be integrated with your Aweber autoresponder to build your list.
Upgrade your Adkreator account to any membership level to set up this campaign. If you don't have an AdKreator account, join Adkreator then and upgrade your account.
Here's what my Adkreator squeeze page looks like (click the image to see the full squeeze page in action):
3. Thank You Page
After someone opts in to your list via the squeeze page, they will be sent to the Thank You page where they will see a Bonus Promo Code offer to encourage them to join your EliteDownlineBuilder downline. The thank you page will be created and hosted on your upgraded Adkreator account.
4. Opt-in Confirmation Page.
When your subscriber confirms their subscription they will be redirected to the opt in Confirmation Page where they will see an offer to upgrade their EDB account. You will earn commission on each subscriber who takes the upgrade offer.
5. Email Follow Up Letters
Your subscriber will start to receive a series of email follow-up letters that explain the benefits of EDB and encourage your subscribers to join the program. (There are 34 emails in the series, which subscribers receive daily for 34 days.)
If you qualify, and would like me to set up your campaign for you, here's what to do:
Log in to your EliteDownlineBuilder account and click on the "Contact Support" button. Then paste the text below in the Subject and Message fields and hit "SEND":
Subject Field: Elite Downline Builder Campaign Set-Up Request
Message Field: Hi David, Please would you help me set up my EliteDownlineBuilder email marketing campaign using your Adkreator page designs and Aweber follow-up emails. Please also rebrand your ebook, The Ultimate Online Profit Formula with my EliteDownlineBuilder affiliate link. My EliteDownlineBuilder Username is: [ENTER YOUR USERNAME]
(Feel free to edit and add to the message as appropriate.)

David Hurley
Top5Programs.com
EliteDownlineBuilder.com

#InspiredFocus