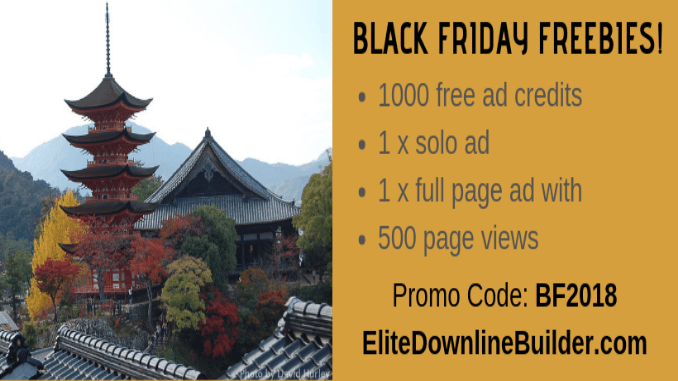 Lots of news to report on this week before I get around to running the weekly $25 Tripleclicks Gift Certificate Prize Draw for my active SFI team members. Check out the video, or scroll down for the accompanying notes.
Offers Mentioned in the Video
Connect with me at Webtalk.co
Grab a 25% discount at LeasedAdSpace
Save 49% on Wealthy Affiliate's annual membership with their Black Friday Deal
Grab some free advertising at EliteDownlineBuilder with promo codes BF2018 and TOP5
1. Webtalk and EliteDownlineBuilder [UPDATED 29th November 2018]
In my previous blog post I explained the benefits of Webtalk and how it can help us grow our online businesses and revenues.
It is also a great platform for us to build our business networks and communicate with each other. So I have added it to EliteDownlineBuilder as our primary communication network. (It was briefly one of our Top 5 programs – see next section on Leased Ad Space for more info about that.)
2. Leased Ad Space [UPDATED 29th November 2018]
Last week, LeasedAdSpace solo ads were suddenly flagged by Google. Someone had posted a link in a solo ad that caused Google to think that it was a possible phishing scam.
That meant that solo ads were being redirected into people's spam or junk folders. Also, the links in the emails were no longer working. Plus, there was a Google warning slapped over the top of the email. In short, the solo ads were not able to perform as intended.
Richard Weberg, founder and owner of LeasedAdSpace emailed us and informed us of the problem. He was working with Google to get the issue resolved.
However, not knowing how long it would take, I decided to take action right away and swapped out LAS for Webtalk.
The next day, we heard the good news that LAS had resolved the issue with Google:
"Google has lifted it's warnings from our emails and site! … and email is being properly delivered to inboxes, not flagged as spam and not flagged as suspicious. Happy day!" 
That's great news for us, as we can now feel happy about promoting EDB with LAS solo ads. 
So now I have restored LAS as one of our Top 5 programs. The swift and successful resolution of the Google is another example of how good the program is. It is a good quality advertising site with a dedicated owner. 
Also… LAS has a sale going on in honour of Thanksgiving… 
25% off all LAS products now through Sunday night! Don't miss out on this value! 
Hop over to LAS now and CLAIM your 25% discount: 
http://trackr.leadsleap.com/goleasedadspace 
3. Wealthy Affiliate's Black Friday Deal
Save 49% on annual membership with Wealthy Affiliate's Black Friday Deal. I blogged about the offer here.
There's still another day left to jump on their offer, and I recommend that you do. It was one of the best decisions I made back in 2015, when I bought WA's Black Friday discount deal.
Tripleclicks Gift Certificate Prize Draw
49 of my SFI team members qualified for automatic entry into this week's $25 Tripleclicks Gift Certificate Prize Draw. The Roll Me Dice App rolled #34 and the winner was one of my CSAs, Patmo Wasito.
Congratulations Patmo!
To CLAIM your $25 Gift Certificate from me, go to my blog, https://top5programs.com and post a comment. As soon as I see and approve your comment, I will send you your $25 Gift Certificate.
David Hurley
Top5Programs.com
EliteDownlineBuilder.com
#InspiredFocus
P. S. News Update, February 10th 2019: Since this post was written, LeasedAdSpace was sold to a new owner LAS and Paypal parted ways. I will continue to use LAS to promote my offers, BUT I have removed LAS from my Top 5 Programs list and from EliteDownlineBuilder. I replaced it with AdKreator which means EDB members can now earn commissions when their referrals request my FREE Marketing Funnel Set Up Service.