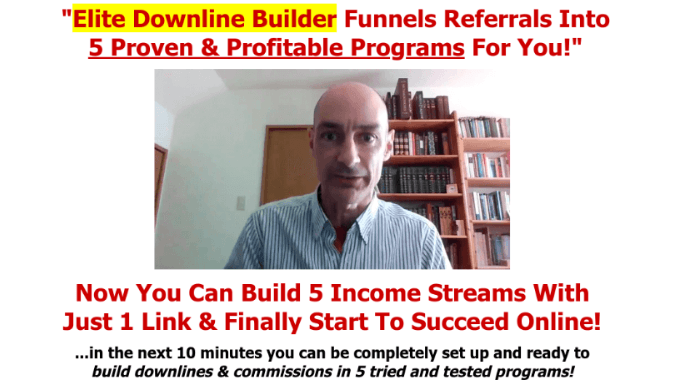 In today's blog post and video I report on my progress with my new program, EliteDownlineBuilder.com and talk a little bit about how it can help you and the programs we are working with.
I also talk about…
My TOP source of referrals and upgrades…

The design of the new landing page…

How EliteDownlineBuilder is DIFFERENT from other DLBs…

The advantage of using a single link to promote multiple income streams…
Watch the video, or scroll down to read the transcript below.
Video Transcript
Hello folks, this is David Hurley of Top5Programs.com and EliteDownlineBuilder.com talking to you on Monday 8th October, which is a national holiday here in Japan so we've just had a nice long weekend.
I'm just about to run this week's $25 Tripleclicks Gift Certificate Prize Draw for the active members of my SFI team. 
But before I just want to update you on developments inside my new program, EliteDownlineBuilder.com – which is designed to help you build your SFI business and grow your downlines in four other tried-and-tested programs.
5 Established Programs That Work With Paypal
All these programs work with Paypal, and they've all been around for several years.
LeadsLeap is my top referrer for referrals into EliteDownlineBuilder so far. I'm advertising EliteDownlineBuilder every day – it's early days yet; this system is still under development, but things are looking promising. We are getting people coming in and we're getting a fair percentage of people upgrading inside EliteDownlineBuilder.
My Top Source Of EDB Referrals…
But most of my referrals, or the largest percentage – about 20% – of my referrals have come from LeadsLeap. And of that 20% about 10-20% have upgraded. And so LeadsLeap is a place where you definitely want to be advertising. (That's one reason why it's one of my Top 5 Programs!)
The New EliteDownlineBuilder Landing Page
What I've done is, I've made the landing page state far more clearly what the program is about. It's about building 5 proven and profitable programs, building your downline in these 5 programs here, which I show as a series of banners with key information about how you can earn with them.
Plus you get a bunch of free credits and bonuses to advertise any other program you want within the EliteDownlineBuilder system.
The whole aim of this system is to build multiple streams of online income while focusing on a single link.
The BIG Difference Between EliteDownlineBuilder And Other DLBs…
Unlike other downline builders, we are only focusing on FIVE programs . And they are five tried and tested programs.
Quite often you'll join a downline builder and you suddenly find once you've signed up – something that wasn't stated on the offer page – that you have a whole bunch of other programs to join. It ends up being something crazy like 20 or 30 or 40 programs that you're expected to join.
That's not the case here. It's just these five programs (SFI, Wealthy Affiliate, Aweber, LeadsLeap, and Adkreator).
Those are all you need to join if you work with me and you want to earn commissions on all the programs in the system. Just five. These are my Top 5 Programs and we're going to build our business using those five programs with a single link, which is your affiliate link for EliteDownlineBuilder.com.
Laser-Focus All Your Advertising Efforts On  A Single Link
In that way you can focus all your advertising on a single link and build multiple streams of income from it.
There's a lot of work for me to do on the inside still. Building up the training: more training videos will be coming in. More instruction on the benefits of joining each program to increase the rate with which people take up the programs on the inside.
So, EliteDownlineBuilder is here for the long term.
If you'd like to work with me, join EliteDownlineBuilder free. Use the promo code TOP5 to get a bunch of free credits on the inside – and start promoting EliteDownlineBuilder as your single link for multiple streams of online income including, of course, SFI!
This Week's $25 Tripleclicks Prize Draw
Okay folks, with that said and done, let's move over and look at the situation in our genealogy for this, the first weekend of October.
By now you should have earned at least 50 credits (VersaPoints). Of course, you should have set your goals for October and should have logged in on or after 5th October.
I put in all those metrics and I'm pleased to see that 42 affiliates have already achieved those goals early in the month.
And so let us call up the RollMe dice app and click the d50 die.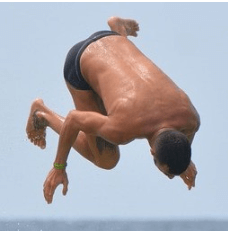 Here goes!
[Clicks the die app.]
Number 48! Well, number 48 is today's result and as you see we only have 42 affiliates. So 48 means we have a rollover!
Make Sure You Qualify For Next Week's $50 Prize Draw!
And so next weekend it will be a $50 gift certificate that is up for grabs. So be sure to have earned 100 VersaPoints, and to have set your goals, and log in on Friday or Saturday of this week to automatically qualify – if you're in my downline – for entry into next week's $50 Gift Certificate Prize Draw.
That's all from me for now.
David Hurley
Top5Programs.com
EliteDownlineBuilder.com
#InspiredFocus
P. S. Several changes have taken place since this post was first published. Click Here to check my current Top 5 Programs.