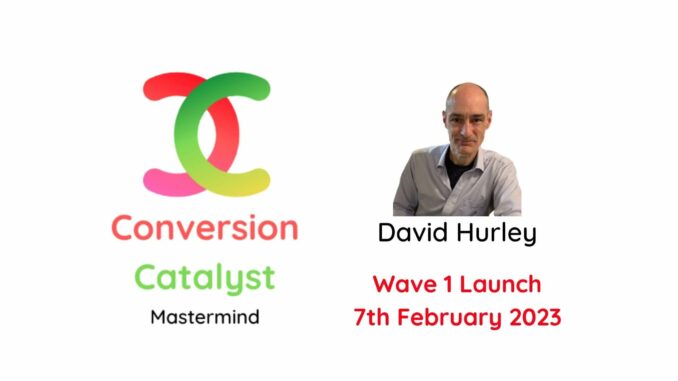 I have some exciting news for the coming year! I'm launching a new Mastermind group called "Conversion Catalyst" (beta wave 1) on 7th February 2023.
3rd January Update: I have just posted a video and more details about the Mastermind on the Conversion Catalyst landing page.
Wanted! 30 Action Takers Looking To Make Progress In 2023
In the beta version I'm looking for 30 people to work with.
This is for you if you are not satisfied with your results BUT are determined to invest in yourself and grow a successful and profitable online business that can replace or supplement your current sources of income.
This is for you if you are worried about your financial security going into your 50s, 60s and beyond…
This is for you if you want to challenge yourself, step out of your comfort zone and grow your marketing skillset in 2023.
This is NOT for you if you do not want to invest in your business or yourself! Conversion Catalysts are not freebie seekers or tyre-kickers; they are investors and action takers who are ready and willing to learn, and to share what they have learnt with the community.
Community is the Key!
Imagine being part of a vibrant and friendly online business mastermind community where we share ideas and learn how to build a profitable and sustainable online business. It will be a place where it is fun to hang out and learn together in a mutually encouraging community.
Conversion Catalyst will train you to create a "product engine" that generates recurring income across several high quality programs.
You will also learn how to build a "traffic engine" and grow a mailing list of hot prospects for your business.
We will also train you to create your own products, services and ultimately, your own mastermind group.
The Conversion Catalyst membership will consist of:
Classroom training modules with text and video segments.
Live group calls on Zoom.
Chat with members, ask questions, post updates, share your knowledge in our community.
New marketing content added every month for you to download and use on your blog, mailing list, or as video or audio content.
Interested? Join the waitlist here to be notified the moment it goes live.