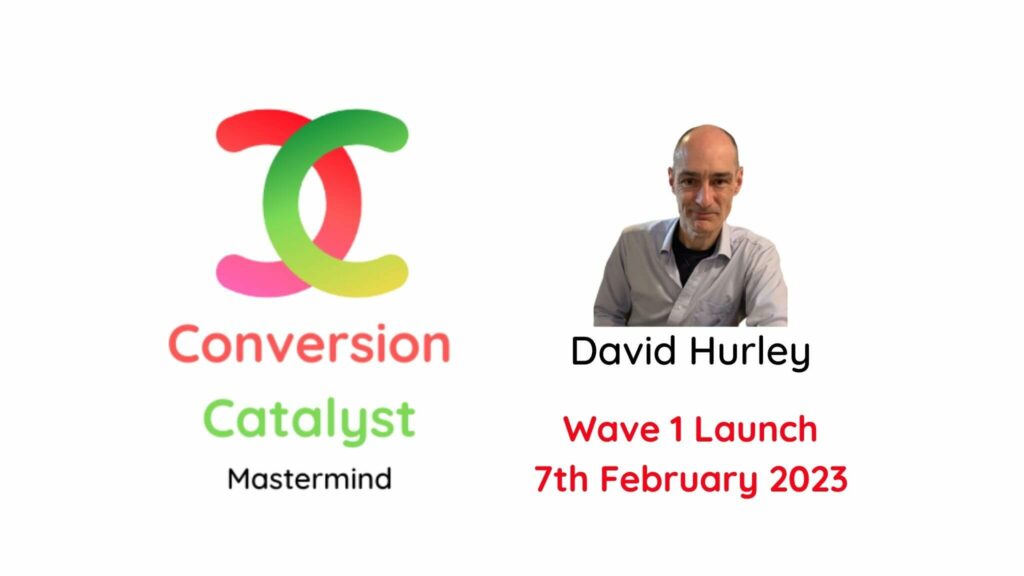 Conversion Catalyst is now in Prelaunch!
Check out this video for a guided tour:
Like What You See?
Apply for your FREE Conversion Catalyst membership here: https://bit.ly/3kO5eSH
Who Is It For?
Conversion Catalyst is for you if you…
not satisfied with your level of online business success,
want to build a profitable side-hustle or full time online business,
need a helping hand to realize your potential.
want to engage with a group of like-minded people and have fun at the same time
If you want to take a big step forward with your online business, now is the time to do something about it.
Enter Your Name & Email To Receive The Latest Updates
Who Am I?
My name is David Hurley. I'm an online marketer with over 15 years experience in building profitable affiliate marketing blogs and email newsletters.
Imagine a virtual community…
that focuses exclusively on helping you build and scale up an online affiliate business.
that trains you to create a marketing funnel, email newsletter, blog, and ultimately a community of your own.
where everybody is aligned towards the same goal: profit, client results, and a happy and fulfilling life.
where you learn how to offer valuable online business tools for recurring commissions instead of selling physical goods for one time sales.
And where it feels like you're hanging out with friends, having fun AND feeling inspired to achieve real and measurable online business results.
We use simple videos, training modules, webinars, one-to-one training calls, and a dynamic community where you can post questions and give and receive help and support.
The Conversion Catalyst Mastermind group run by me, David Hurley, with a focus on implementation and collaboration. As you go through the training modules and begin to take action, you can get help  either through the community chat or through live online sessions where we learn, work, and grow together in real time.
Conversion Catalyst is currently in the Pre-launch stage and will create a FREE Beta-1 group that is LIMITED to 100 members only.
Work together with us for 365 days to create a new life for yourself and those who matter to you.
Here's how it works:
Classroom
I'm still building out the course but these are some of the topics we'll cover.
How to build a marketing funnel
Safelist marketing strategy
Business blogging with WordPress
Working with crypto
Backend "Primary Business" offer
Creating a profitable semi-automated side-hustle
Other topics will be added based on members' requests and needs.
Community:
Conversion Catalyst community where you can collaborate with other members in community discussions or private chat.
24 bi-weekly 1 hour collaboration webinars where we bounce ideas around and do the practical work of building our online businesses together.
Members will be able to set up accountability calls and other cooperative projects on their own initiative.
Are you ready?
You'll need to act fast once Conversion Catalyst goes live as the beta is open only to a small number of people. Here is the application link: https://bit.ly/3kO5eSH
How Much Does It Cost: FREE during the Prelaunch and Beta stage.
Beta Member Cap: 100 members only.
David Hurley
#InspiredFocus