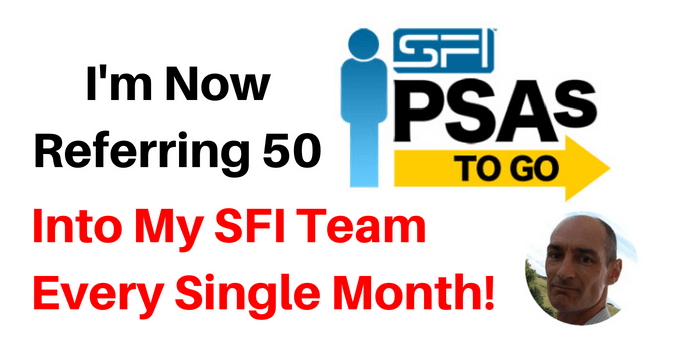 In this week's video I talk about:
A change I've made to my monthly incentive scheme for my SFI downline.

My latest SFI Free Advertising training video

.
And then I run my weekly $25 Tripleclicks Gift Certificate Prize Draw for the active members of my SFI team. Watch the video, or scroll down for the video transcript.
Video Transcript
Hello Folks,
This is David Hurley of Top5Programs.com talking to you on Sunday 1st July 2018. 
I'm just about to run this week's $25 Tripleclicks Prize Draw for the active members of my SFI team. But before I do that I just want to bring you up to date with some news about a change in how I'm running one of my incentive schemes for my SFI team.
From Monthly VP Challenge To Monthly PSAs-To-Go
I posted a note on my SFI Stream and I also sent active members of my SFI team an email earlier this week announcing that the monthly VP Challenge will be replaced with some Opti-Build bonus PSAs.

That's because now that VP no longer generate profit share for us there is less reason to reward people for generating VP each month. The main goal of VP is to achieve a higher rank in SFI. Beyond that there's no other use for VP any more. 
Instead, the 4% Team Overrides make it more important than ever to build a team through multiple generations.
And so I'm stopping the monthly VP Challenge after this month – so at the end of this month – by "this month" I mean June. By the end of June I will check who are the VP winners and distribute Gift Certificates as I have done each month for the last couple of years now. But this will be the last time.
Then, some time in the middle of July I will set up a new $50 PSAs-To-Go standing order. [Actually, I've already set up this standing order, which will kick in on 2nd July.]
Now, as I am already subscribed to the S-Builder Co-op I get to purchase PSAs-To-Go for $2 each [actually, $1.99]. That's a special price for people who are already subscribed to the S-Builder Co-op. And so a $50 order will bring an extra 25 PSAs to the team.
And I'm opted in to Opti-Build 100%, which means that all 25 of these PSAs will flow down to Designated Diamonds in my downline. In that way I'll be helping you to build your team through several generations. This is something I'll be doing each month. Each month this additional $50 investment in my team is replacing the monthly VP Challenge.
The monthly VP challenge cost me $49 a month, so there's an extra dollar [actually, it's just 75 cents LOL!] being injected into the team here, and it's all going to building PSAs in the downlines of Designated Diamonds.
Aim To Become An SFI Designated Diamond
So if you're not yet a Designated Diamond, make that your first aim as a member of my SFI team. I already have five Designated Diamonds in my first level. So if you are one of my PSAs and you want to become a Designated Diamond, get in touch with me and I can reallocate you to a Designated Diamond somewhere else in my downline.
That will be in one of my lower generations where we can guarantee that you'll become a Designated Diamond, as long as you maintain your level of activity.
So that's the news from me about my new incentive scheme. Let's now move on to my training videos.
My SFI Free Advertising Training Videos
I've just brought out the third of my SFI training videos. It's available on YouTube and I'll put a link in the article supporting this video so you can find it.
Here's the link:
SFI Training Video #3 – FREE Advertising Sites Online : How To Use Ad Exchange Club & Ad Exchange Elite
.And at some stage I'll add a link to all the videos on my blog.
The third video is about how to use two specific sites – AdExchangeClub and AdExchangeElite – to bring in a lot of traffic to your SFI gateway site.
So check out that video…
This Week's $25 Tripleclicks Gift Certificate Prize Draw
And so without further ado let's get on with this week's Prize Draw for the active members of my SFI downline.
This week 38 affiliates qualified. I'm treating today, 1st July, as the fifth Sunday in June. I live in Japan so I'm several hours ahead of most of the people in my downline. For me it's July already. For most of you, probably all of you, it's still June, and so you'll have had no time to accumulate any Versapoints to qualify for today's prize draw if I treat it as a July prize draw.
So I'm treating it as the fifth Sunday in June, which means you need to have accumulated at least 25 Versapoints by now – an average of five a week cumulatively through the month – as well as your 150 Versapoints in May. And set your current goals for the month and have logged in within a few days of this prize draw.
38 people have qualified for the prize draw this week, and here they are.
So we will use the 4-sided die and the 10-sided die to find this week's winner. 
Let's roll the 4-sided die…
It's number 1!
And so the 10-sided die… is number 4. So the winner is number 14.
The winner is Ifechukwu Okeke. 
Ifechukwu Okeke, congratulations to you for winning this week's $25 Gift Certificate Prize Draw. Now, there's one more step you need to take. And that is to pop over to my blog and post a comment on one of the blog posts there. As soon as I see, and approve, your comment I will send you your $25 Gift Certificate.
That's all from me, until next time…
David Hurley
Top5Programs.com
#InspiredFocus
P. S. Click Here if you'd like to join my SFI team and work with me to build your online business.