SFI Affiliate Success Handbook
SFI Affiliate Success Handbook

SFI Affiliate Success Handbook  shows you how to turn the SFI affiliate program into a profitable online business. It is the result of more than ten years' experience of making money with SFI.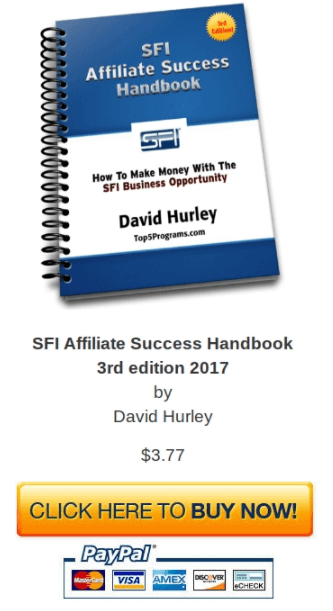 Now you can see HOW I make money with SFI in this "no secrets held back" blueprint to running a successful online business with the Internet's #1 free business opportunity.
I spent several years developing my SFI Affiliate Marketing techniques, from building an active team to creating and selling products and services through SFI's E-Commerce Associates program.
I also show you how I market my SFI business and refer affiliates into my downline.
Then I explain how to duplicate your own activity so that you can leverage the potential power of the SFI pay plan.
Contents
Introduction

Part 1: How To Make Money With SFI

Part 2: How To Motivate Your SFI Team To Take Action

Part 3: How To Train Your SFI Team To Duplicate Your Efforts

Part 4: How To Recruit Prospects To Your SFI Team

More Advanced Steps To Promote Your SFI Business

Conclusion: Putting It All Together
David Hurley
Top5Programs.com
ThousandAMonth.com
#InspiredFocus