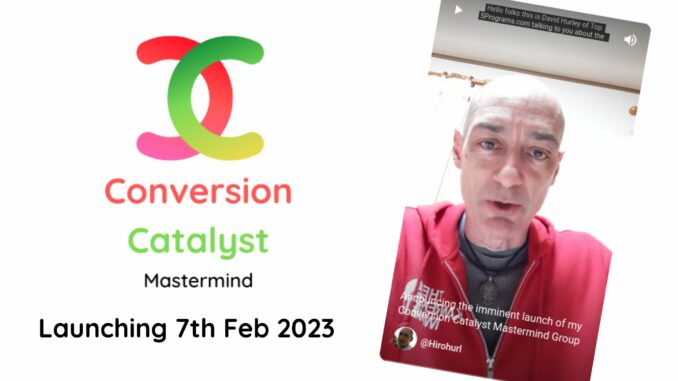 My Conversion Catalyst Mastermind group is launching on 7th February 2023.
Conversion Catalyst is for you if you want to learn how to create a successful online business or how to improve your skills as an Internet marketer. Conversion Catalyst is a community where you can take online business training courses, participate in live webinars, ask questions, share your skills and your achievements, build a strong network with likeminded Internet marketers, and have fun at the same time.
Check out this YouTube short video for more info:
Video Transcript
Hello folks this is David Hurley of Top 5Programs.com talking to you about the imminent launch of my Mastermind group Conversion Catalyst, which is aimed at anybody who is looking for a way to either learn how to make money online or learn how to get better at making money online as an affiliate marketer in the business-to-business niche primarily, but it doesn't have to be solely that.
And what we're aiming to do on this Mastermind group is to create a strong network of people who want to improve their conversion skills.
With the Conversion Mastermind we are going to learn how to convert strangers into list subscribers and then how to turn those subscribers into first-time buyers and those first-time buyers into a regular faithful loyal and loving customers.
And it is launching on the 7th of February.
Here is the application link if you'd like to develop your skills and participate in a community of aspiring Internet marketers: https://llclickpro.com/conversion-catalyst/t5
Or go to this page for more info.
See you on the inside!
David Hurley